Video-Rendering isn't possible in Realtime, because of slower hard disks and video encoding, so each frame can be saved by approx 2-5 frames per seconds. This is quite to slow for using an realtime dmx-input signal. For this reason Realizzer comes with a DMX-Recorder/Player tool. This tool records the full DMX-Input signal of all 128 Universes in exact 30 frames/second.
To open the DMX-Player make a click on: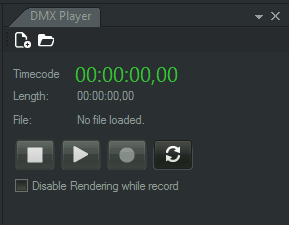 Record a DMX-Stream
At first make your your DMX-Input is working correctly.
1. Click on the "New" button in the toolbar and give the Stream a filename
2. Click on the Record button
3. Now you can start playing your DMX-Show on your controller
4. As soon as you click on stop, Realizzer will finalize the Stream-File and you can play it.
Info: In big installations it can be helpful to Disable the rendering, using the checkbox "Disable Rendering while record", to make sure enough CPU is available to save right DMX data.