Intelligent Lighting
Realizzer realistically simulates Intelligent Lighting features such as Pan/Tilt, Gobo's, Colour, Colour Mix (RGBAW / CMY), Effect wheels, Prisms, Zoom, Framing Shutters and much more. Scanners, Moving Heads, LED's and Generic Profile spots all respond just like in the real environment. The Realizzer Engine produces photorealistic rendering of Beams and Projections with scaleable quality. Everything is based on real world photometrical calculations. Features like True 3D Fog and Bloom makes it more real than in reality!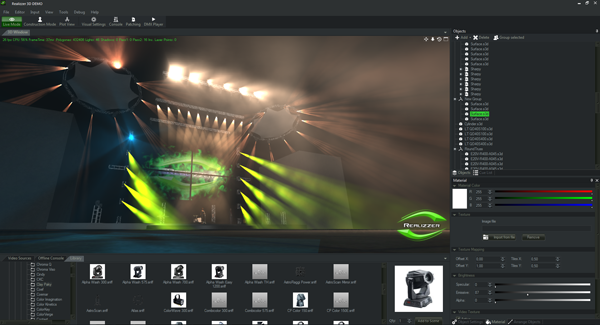 Architecture Lighting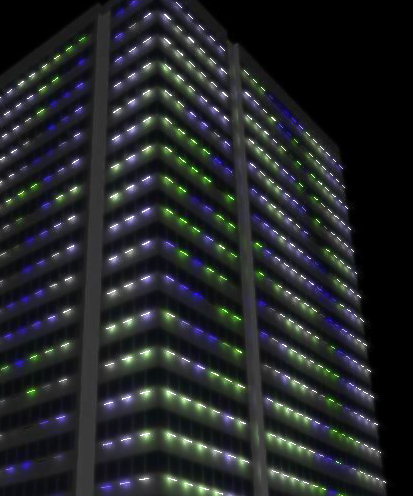 Realizzer gives you the power to quickly and easily create stunning LED designs from a simple 2D Matrix through to complex 3D Arrays.Import your own 3D Architectural Models and then use one of the many inbuilt design tools to arrange and patch complex LED fixtures to create breath taking designs.
Make Lighting Concepts and Preprogramming for Clubs, Fassades, Bridges and many more!
DMX Input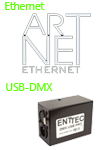 Realizzer supports ArtNET, RealNET and USB-DMX* to get DMX Data. So it is possible to use any DMX Lighting Console or Software available on marked to use with Realizzer.
By using our RealNET Ethernet protocol it is also possible to share realtime patching, selection and Hot-Tracking informations between Consoles and Realizzer. If you are a Console Manufacturer and interested in our RealNET SDK, send us an email on This email address is being protected from spambots. You need JavaScript enabled to view it.