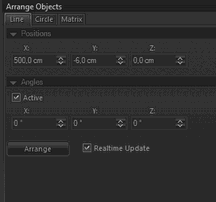 Positions:
The position section defines the distance between each object on the line. You can define a distance for each Axis separately, this will produce angular lines.
Angles:
With active Angles, you can add a relative rotation offset to each Object. This feature will add (Deg / Count) * N degree to each object.
Arrange:
Click this button to arrange.
Realtime Update:
If this option is active, the arrangement will be done immediately after changing any value.