As in the same as real installations you need to give each fixture a DMX-Start address to get them work. Realizzer has two methods for patching.
Manual Patch
Select the Fixture(s) you want to give a specific DMX Address. Go to the Object-Settings Window. In the drop-down window called "DMX-Patching" you will find all controls to setup the actual DMX-Address and also change the actual DMX-Mode.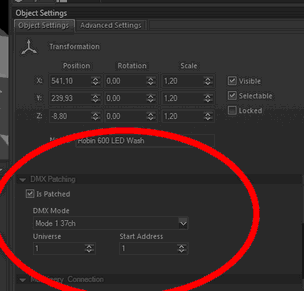 Is Patched
This checkbox is like removing an DMX-Cable from the Fixture. It will keeps the Address but will not work with incomming DMX data.
DMX-Mode
This will change the actual DMX-Protocol, if more than one are available for this Fixture.
Universe & Start Address
Change the actual DMX-Start Address.
Auto Patch
With this function you can patch Fixtures in a sequence. It will automatically check how many channels are taken by each fixture in current mode and will put them sequentially. Select the Fixtures you want to patch, right-click on them and click on "Auto Patch Fixtures". A new dialog will appear::
Universe:
Selects the Universe where the first Fixture should start.
Start by:
Defines the DMX-Address of the first Fixture.
Distance:
With this value you can define a gap between each fixture. F.e. if you place a distance of 5 you will have 5 empty channels between each fixture.